Car Engine Service at Woodhouse CDJR of Blair
Chrysler Dodge Jeep® RAM® (CDJR) vehicles offer dependability, performance, capability, and style. No matter your lifestyle there is a vehicle to match. You can find a diverse selection of new cars, trucks and SUVs at our local Blair, NE CDJR dealership. Once you buy a car, we also commit to providing the best possible service to keep it in premium condition, including engine maintenance and repair. Come in to Woodhouse Chrysler Dodge Jeep RAM of Blair when it's time to have your CDJR vehicle serviced.
Engine Wear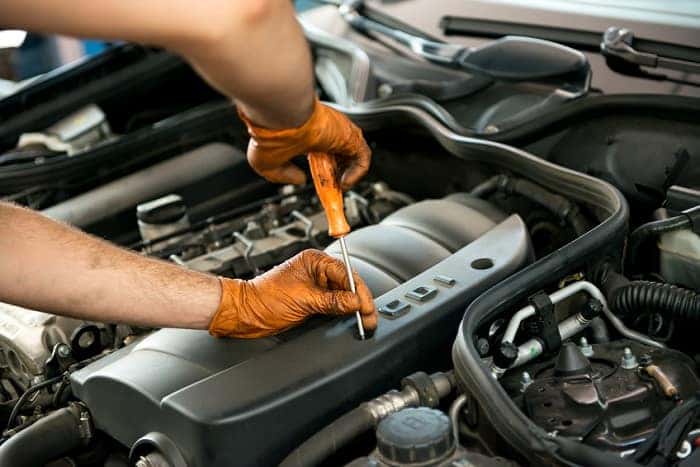 The Service Center at Woodhouse CDJR in Blair, NE offers expert engine service and repair for vehicles like the Chrysler Pacifica minivan or Dodge Durango SUV. Our technicians will be able to tell if your vehicle has suffered engine wear.
Types of Engine Wear:
Abrasive Wear
Corrosive Wear
Adhesive Wear
Fatigue Wear
There are four basic types of engine wear. Perhaps the most common is abrasive wear. This happens when contaminants get into the engine and damage the metal parts. The second type is corrosive wear or "chemical wear." As you might imagine from the name, damage occurs when chemicals "attack" the metal components inside the engine. The third type, adhesive wear, occurs when the engine is exposed to excessive metal-to-metal contact due to high loads, high speeds or extreme temperatures. The last type is called fatigue wear and it occurs when a lubricated surface inside the engine experiences too much stress, leading to fractures.
Have Your Vehicle Serviced at Woodhouse CDJR
Woodhouse CDJR in Blair, NE offers a MOPAR Service Center. Our Certified Technicians are trained to inspect and repair CDJR vehicles like the Jeep Cherokee or Jeep Renegade. You can enjoy the convenience of Early Bird Hours, Saturday service, a rental vehicle if you have to leave your car, and shuttle service. We also sell quality MOPAR Performance Parts if any components of your engine need to be replaced. Aside from engine repair, we provide comprehensive auto service, from regular maintenance to major system repairs.
Reasons to Service with Us:
Certified CDJR Service Technicians
MOPAR Performance Parts
Early Bird & Saturday hours
Rental Vehicles, shuttle service
If you need to bring in your RAM 1500 truck for engine service, schedule an appointment online today.
If it's time to buy or lease a new CDJR vehicle, we can take care of that, too. Just come in to Woodhouse CDJR for a test drive. We're located at 2171 South Highway, Blair, NE. We look forward to ensuring your vehicle's engine remains in shape for years to come.