Why Choose a Chrysler Pacifica Over an SUV or Crossover?
When you know that you need a spacious vehicle to fit you and the entire family, your choices are typically either a minivan, SUV or a crossover. When you take a look at the Chrysler Pacifica, you will see how easy the decision is! Here at Woodhouse Chrysler Jeep® Dodge Blair, we will help educate you on why the Chrysler Pacific is the perfect family ride.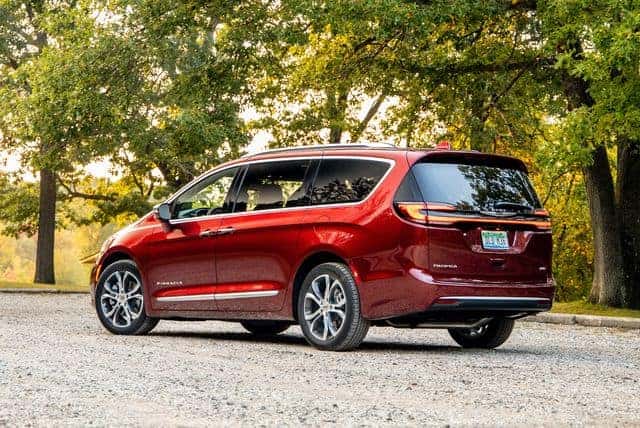 Chrysler Pacifica Storage
If you put down the extra seats, the Chrysler Pacifica has 140.5 cubic feet of cargo space. With all that space, you can fit just about everything inside of your vehicle.
If you compare it to an SUV like the 2021 Jeep Cherokee, there's only 54.7 cubic feet of space. Even really spacious models like the 2021 Dodge Durango doesn't have comparable cargo space.
Chrysler Pacifica Safety Features
The Chrysler Pacifica has all of the safety features that you have come to expect in top-of-the-line SUVs and crossovers. What is even better is that a ton of these safety features come standard.
This includes standard full-speed forward collision warning with active braking which will let you know if you are about to get collide with an obstacle in front of you. The active braking can activate the brakes for you to mitigate the damage.
It also has standard adaptive cruise control so that if you are using cruise control, your vehicle will automatically slow down to match pace with traffic.
There is also standard pedestrian automatic emergency braking. This will cause your vehicle to automatically brake to avoid hitting a person while you are driving.
Another awesome standard feature is LaneSense® lane departure warning with lane keep assist. This will let you know if you are drifting away from your lane.
The standard blind spot monitoring system will let you know if it is safe to make a land change. The standard ParkSense® rear park assist system will let you know if it is safe to back out of a parking spot.
Find a Chrysler Pacifica with Woodhouse Chrysler Jeep Dodge Blair
When you visit our dealership, we will help you find the right ride and finance a Chrysler Pacifica. Once you take a test drive, you will see why Chrysler fans are so excited about the 2021 model. Stop by Woodhouse Chrysler Jeep Dodge Blair to learn more.