Dodge Car Shopping Guide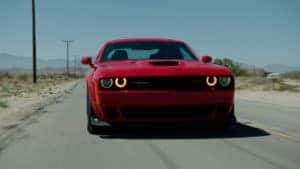 If you're searching for a new sedan and want a vehicle that won't bore you, Woodhouse Chrysler Jeep® Dodge Blair should be your first stop. That's because a Dodge car might just be perfect for you.
These models offer incredible performance and plenty of premium features, and we'll make it easy to pick out the Dodge sedan that's right for you.
Dodge Charger
The Dodge Charger is the more traditional sedan, but it offers plenty of options that allow you to customize your vehicle and get the kind of driving experience you've been searching for. This model is built for performance, but it also offers plenty of tech and a comfortable interior that's equally accommodating for passengers and drivers.
You can opt for all-wheel drive or rear-wheel drive on some trim levels. Both options have their own pros and cons, but it's rare to see a sporty sedan offer such choices.
You can even choose from a few widebody models and cars powered by the HEMI® SRT Hellcat V8 engine, which boosts output to an astounding 797 horsepower! This is not your typical sedan.
Dodge Challenger
The Dodge Challenger is more of a muscle car, so it may not be as ideal for families as the four-door Dodge Charger. It offers many of the same options though, including different drivetrains, multiple potent engines to pick from, and widebody models. It even offers best-in-class passenger space.
If you want to learn more about these incredible Dodge cars, don't delay. Visit our Dodge dealers near Omaha and ask about the Dodge Charger and the Dodge Challenger. We'll help you build a new car that offers the features and driving experience you've been searching for!