Is the Dodge Charger a Sports Car?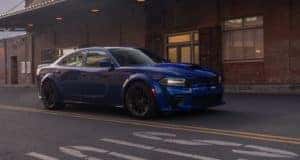 You might be wondering, "Is the Dodge Charger a sports car?" and it's a great question! The Dodge Charger is designed with power, capability, and performance in mind, and you can test all those great features right here at Woodhouse Chrysler Jeep® Dodge Blair.
Is the Dodge Charger a Sports Car?
Technically, the Dodge Charger isn't a sports car. That's because it has four seats and four doors, and sports cars are designated by their two-seat configuration. That said, the Dodge Charger does come from a long and exciting line of performance vehicles known as muscle cars.
Muscle cars were first introduced in the 1960s when the Ford Mustang hit the market, and exciting new vehicles like the Dodge Charger and Dodge Challenger soon followed. They were just as performance-ready and capable as sports cars of the era and could dominate down at the track and out on the open road.
But because they had four seats and sizable cargo space, they could be used for road trips or even family vehicles. That meant they were more versatile and capable than many of the sports cars of the era, which is why muscle cars like the Dodge Charger are still being produced today.
2021 Dodge Charger at a Glance
The 2021 Dodge Charger starts at $31,125 MSRP and is known as the most powerful production sedan in the world. That's because it comes with many great engine options, including the 6.2L HEMI® High-Output Hellcat Redeye V8 engine, which produces up to 797 horsepower and 707 lb-ft of torque.
Don't forget to check out the other great performance and handling features available in the new Dodge Charger, like the six-piston Brembo Brake System, launch control with launch assist, and the SRT® Power Chiller.
Experience the latest in a long legacy of performance driving here at Woodhouse Chrysler Jeep Dodge Blair. Take your first test drive in a Dodge Charger today.