Jeep Financing FAQ for Omaha Drivers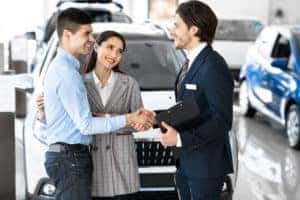 The financing process can seem quite complicated, but our financing experts and this Jeep financing FAQ can help! Any questions that you have about auto loans can be answered by the knowledgeable staff members right here at Woodhouse Chrysler Jeep® Dodge Blair.
Can I Finance with No Credit or Bad Credit?
When we try to find drivers a loan, we look at their credit history to see how good they have been about handling financial obligations in the past.
If you have no credit or bad credit, it can be harder to find a loan with favorable terms. At that point, you may want to get a co-signer.
What is a Co-Signer?
A co-signer is someone else who will sign onto a loan with you. This person has better credit than you and pledges to be responsible for the loan if you fail to pay it back.
Should I Finance or Lease?
Both options have their own pros and cons. For example, a lease is often cheaper but has limitations, like how many miles you can drive.
Financing can mean higher monthly payments, but you can customize your vehicle with accessories and the cost of ownership drops off significantly once your loan is paid. It's all about finding which works best for you based on your budget and driving habits.
Do I Need Gap Insurance?
This type of coverage pays you if your car is totaled and there is a gap between what the car is worth and how much you owe on a loan. It's not required, but you'll be glad you have gap coverage if something happens to your car during its first few years on the road.
So if you're ready to finance a new vehicle, talk to a Jeep dealer near Omaha and get ready to drive away in one of our capable new SUVs. We look forward to seeing you!