Jeep SUV Models by Size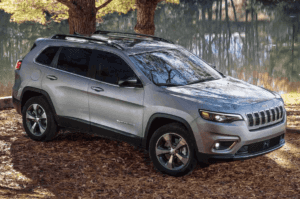 No matter what kind of SUV or crossover you're looking for, we're confident that the Jeep® lineup will meet your criteria. Whether you're looking for a mid-size Jeep SUV or a compact model, the expert dealers here at Woodhouse Chrysler Jeep® Dodge Blair can help.
Let's look at each SUV in our lineup and how they stack up, size-wise.
Compact
The smallest SUVs in our lineup still have a lot to offer. The 2022 Jeep Compass was just redesigned for a new model year. It offers more standard safety features and plenty of in-car tech. The 2022 Jeep Renegade sports a unique look and plenty of advanced capabilities.
If you're going off-road, it's hard to beat the 2022 Jeep Wrangler. You can even opt for the 2022 Jeep Wrangler 4xe, a hybrid option. These compact models all offer comfortable seating for five.
Mid-Size
The 2022 Jeep Cherokee is a mid-size SUV. It's a bit roomier than the compact models, so if you want more cargo room this might be the better option for you.
This SUV offers up to 70.8 cubic feet of cargo room, while the 2022 Jeep Compass maxes out at 59.8 cubic feet.
Full-Size
The 2022 Jeep Grand Cherokee would be considered a full-size model. It still offers two rows of seating, but there's more room to stretch out so the back row is more accommodating to taller passengers.
Three-Row
Finally, we have the largest SUVs in our lineup. These models all offer three rows of seating, so you have enough room for up to seven or eight passengers depending on the vehicle and options you choose.
The 2022 Jeep Grand Cherokee L, the 2022 Jeep Wagoneer, and the 2022 Jeep Grand Wagoneer fall into this last category.
If you want to learn more about our capable SUVs and crossovers, visit our Jeep dealership near Omaha. Whether you're looking for luxury or off-road performance, we'll help you build a vehicle that offers the driving experience you've been searching for!